Questions About Our Salt Therapy Sessions
What should I wear?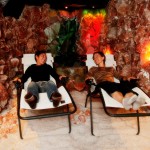 One should dress in comfortable attire which would be appropriate for a public place. You may not wear shoes in our Salt Cave. We provide shoe/foot covers or you can bring fresh, clean white socks. Please be sure to bring socks for your children.
Why must I arrive 15 minutes early?
Our sessions begin exactly on the hour and therefore it is very important to arrive 15 minutes early in order to fill out paperwork, use the restroom, and help yourself to a cup of herbal tea. If you arrive after the session has begun, you may be able to join us for the following session if we have availability.
Are there any illnesses or conditions which may prevent me from utilizing a salt therapy session?
Kidney Disease – Since one's kidneys may already be in a compromised state it is advisable to consult with a physician prior to scheduling an appointment. During your 45 minute session water is pulled from your system. It is recommended that one use the restroom prior to beginning their session and immediately following it. We also recommend increasing your water intake through out the day.
Chemotherapy- If one is undergoing chemotherapy it is not advisable for them to visit the salt cave. However, during the period between chemotherapy increments and after the completion of one's treatment it is recommended that one schedule 2-3 treatments per week to aid in the improvement of their immune system as quickly as possible. The salt session helps improve and boost one's immune system. During chemotherapy the idea is to lower immunity to aid in the killing off of the cancer cells, therefore it would be counter productive to one's treatment to visit a salt cave.
Hypothyroidism – the body generates less iodine than required. From our experience: it is recommended to use the salt therapy in our cave under a doctors care during which time they can monitor and reduce the amount of hormone they are prescribing for their patients until it is possible to completely stop its use.
What should one expect when visiting our Salt Cave?
Our cave is 450 square feet with 9 foot ceilings. We keep our temperature in the cave around 70 degrees, and the humidity is held between 50-60%. This carefully regulated climate allows our cave to be completely sustainable and keeps our cave growing. There is no steam so you will not perspire during the session. Your makeup and hair will remain perfect. If you should feel chilly we provide blankets. We have two secure locker cabinets to lock up your valuables. No cell phones, computers or food and drink are permitted in the cave.
Why did we choose to use a water method of delivery to saturate our air?
After 3 years of research, we learned that all life forms come from a water and salt concentration called sole ("so-lay"). We find this same concentration in our bodies, in the primal ocean, and in the embryonic fluid . Without water and salt, we would have no actions and no thoughts! Salt and water are necessary for our cells to metabolize through osmosis. The concentration of negative ions is naturally higher around waterfalls and by the ocean; when water droplets are dispersed, an electrical charge is created. The two water features in our cave help to replicate this and allow for the absorption of the negative ions by our bodies, which helps to build up our immune systems and aid in balancing our PH levels.
Our cave's system contains nothing artificial and does not have any metal or mechanical parts because salt oxidizes and is corrosive to metal parts. We take pride in the fact that we are gypsum-free, and used no artificial glues in creating our cave. The use of gypsum, plaster and artificial glues/resins give bacteria a place to grow. In such salty environments these materials become bacteria nests, and require expensive and dangerous ultraviolet lamps which must be used between sessions to clean and remove bacteria growth.
We work hard at being a conscious company supporting local business, USA made, and green products.
Can I bring a child with me?
There is no age limit for Salt Therapy. However, we offer separate sessions for children (ages 0-11) where they may engage in quiet play. These sessions are held every Wednesday at 10am. Or you may chose to book out the room as a Private Session and bring your children. Children must always be accompanied by parents and reservations are required!
Can I read a book in the cave?
This is a special time for internal reflection and healing. The lights are dimmed and you are encouraged to let your body rest and repair in a passive way.
Can I bring in food or water during my session?
No food or drinks are allowed in the cave.
What is the cancellation policy ?
A 24 hour cancellation notice is required or your credit card will be charged 100% of the fee.
We respect our clients and we ask that they please respect us and our time as well.