Trust the power of nature and shield your body from stress, insomnia, fatigue, allergies, migraines, aches and pains, immune disorders, respiratory infections, cardiovascular and gasto  issues and skin disorders.
Invest in your health.
"The salt way to feel good" is achieved by frequenting our salt cave to rebalance and rejuvenate your body and mind. By maintaining the temperature in the salt cave between 62-70 degrees it ensures that the air inside the cave is infused with micro elements of salt that contain 84 trace elements required by our bodies to move and to think. The cave is anti-bacterial and free from pollutants.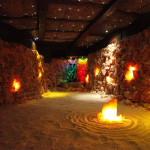 Let Us Put Salt In Your Life !