The Dead Sea  is a salt lake bordering Jordan to the east and Israel and the West Bank to the west. Its surface and shores are 1,388 ft below sea level,the earth's lowest elevation on land. The Dead Sea is 1,237 ft deep, the deepest hypersaline lake in the world. With 33.7% salinity, it is also one of the world's saltiest bodies of water,
This salinity makes for a harsh environment in which animals cannot flourish, hence its name. The Dead Sea is 34 mi long and 11 mi wide at its widest point. It lies in the Jordan Rift Valley, and its main tributary is the Jordan River.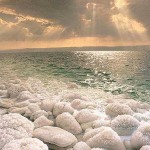 The Dead Sea has attracted visitors from around the Mediterranean basin for thousands of years. Biblically, it was a place of refuge for King David. It was one of the world's first health resorts, for Herod the Great. Today people from all over the world come to experience it's healing powers. In 2009, 1.2 million foreign tourists visited on the Israeli side. People use the salt and the minerals from the Dead Sea to create cosmetics and herbal sachets.
Asheville Therapeutic Salt Cave took the initiative to import this Dead Sea Salt and to include it as part of the salt found on the floor of our cave. We are the only Therapeutic Salt Cave in the United States to use Dead Sea Salt in our natural cave environment.